The Democratic Party will keep control of the U.S. Senate.
I've been getting a lot of messages this week from friends in Europe saying they are glad America's democracy isn't dead. Me too, guys. Me too.
Many people, it seems, were expecting more unfounded accusations of voter fraud and rigged elections or general chaos like the kind the U.S. saw after the last presidential election. Instead, the elections were carried out as usual.
This newsletter was originally going to be about the fact that we still don't know who will control the Senate. But now we do.
On Friday night, as many of us humans were at a bar, socializing, we got the news that Democratic Senator Mark Kelly will keep his Senate seat in Arizona. That meant the Dems only needed one more seat to keep the Senate. Then, almost exactly 24 hours later, we learned that Democratic Senator Catherine Cortez Masto also won in Nevada. That means Democrats are now in control of the upper house.
Depending on the outcome of Georgia's (the state) runoff elections, they might even get one more seat.
We still don't know officially who won the House of Representatives, but it's almost certain that Republicans will have a majority, even if it's slim. The isolationist wing of the Republican Party did not win an overwhelming victory, however.
That is all highly remarkable because the President's party usually gets killed in midterm elections. It's practically a rule. Most analysts were expecting some version of a red tsunami or a red wave (red being the color of the Republican Party). But that just didn't happen. And I suppose that means democracy is functioning despite gerrymandering and money in politics, because it can still surprise us. Congratulations, America. Something is working.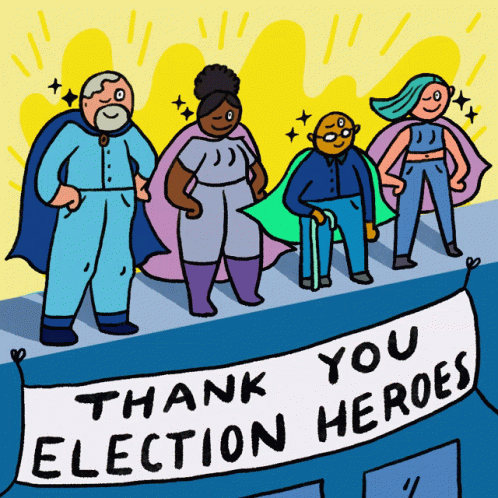 Here are some clips from our live blog about the races I was watching:
Next week I'll be back with the 195 series!
What I'm writing:
• I delved into the debate about whether the U.S. is or should be pushing Ukraine to negotiate with Russia and the growing complaints about national security adviser Jake Sullivan that I've heard since the beginning of the war in Ukraine. This is unlocked and free to read.
What I'm reading:
• The Biden administration is privately encouraging Ukraine's leaders to signal an openness to negotiate with Russia, the Washington Post reported. Then suddenly, Ukrainian President Volodymyr Zelensky released the above video. CNN and Politico also reported that the Biden administration, and national security advisor Jake Sullivan in particular, have been pushing Zelensky to show a willingness to talk.
• General Mark Milley, the chair of the Joint Chiefs of Staff, has been urging diplomacy in Ukraine, the New York Times reports. However, other senior officials have resisted the idea.
• Ukrainian President Zelenskyy said world leaders should "force Russia into genuine peace negotiations," the Washington Post reports.
• U.S. national-security adviser Jake Sullivan has recently engaged in confidential conversations with top aides to Russian President Vladimir Putin, the Wall Street Journal reports. U.S. and allied officials said Sullivan has been in contact with Yuri Ushakov, a foreign-policy adviser to Putin, and with his direct counterpart in the Russian government, Nikolai Patrushev.
• Russian forces completed their withdrawal from Ukraine's Kherson Region west of the Dnipro River, including Kherson city.
• Ukraine suffered a communication outage when 1,300 SpaceX satellite units went offline over funding issues, CNN reports.
• Kyiv transferred five strategic enterprises to state control from previous oligarch ownership, the Financial Times reports.
• Kremlin-linked businessman Yevgeny Prigozhin admitted that he had inferred in U.S. elections and would continue to do so, the Associated Press reports.
• Oleksandr Onyshchenko, a Ukrainian businessman and pro-Russian politician wanted in Ukraine for corruption and sanctioned by the U.S. for being a "member of the Russian network meddling in the U.S. presidential election," has obtained North Macedonian citizenship, Balkan Insight reports.
• Vyacheslav Bohuslayev, the longtime head of the engine maker Motor Sich, is in Ukrainian state custody on suspicion of collaborating with and assisting the "aggressor state," Radio Free Europe reports. Apparently, he also has Russian citizenship.
• Uzbekistan is lobbying the European Union to lift sanctions on Uzbek-Russian billionaire Alisher Usmanov and his sister, the Financial Times reports.
• The Hungarian government has proposed making extensive judicial reforms to unblock €7.2 billion in grants from the EU's post-pandemic recovery fund, according to documents seen by Politico Europe. The Commission and Viktor Orbán's government are negotiating a compromise for Brussels' approval of Hungary's recovery plan and related funds. (Note from me: This is potentially a big deal because it shows that the EU's financial leverage can successfully counteract democratic backsliding in some instances.)
• Sweden's new Prime Minister, Ulf Kristersson, pledged to counter "terrorism" threats to Turkey as his government seeks Ankara's approval for Sweden's NATO membership, the Associated Press reports.
• Evidence revealed "an extreme right-wing motivation" behind a recent attack at an immigration center on the English coast, the Washington Post reports. A 66-year-old man threw at least two gasoline bombs at a migrant center near the port town of Dover.
• French President Emmanuel Macron will announce the end of France's eight-year anti-jihadist operation in the Sahel, the BBC reports.
• Switzerland is promising to cut its greenhouse gas emissions in half by 2030 by paying poorer countries, like Ghana or Dominica, to reduce their emissions and then taking credit for the drop, the New York Times reports.
• The number of fossil fuel lobbyists at COP27 jumped 25% from the last meeting. Campaign group Global Witness found 636 people at the talks in Egypt are linked to fossil fuels, more than the combined delegations from the ten most climate-impacted countries. The BBC has the report.
• The Taliban banned women from visiting parks in Afghanistan's capital. Women were previously allowed to visit parks three days a week. Now they won't be allowed even if a male relative accompanies them, the BBC reports.
• The deteriorating health of jailed Egyptian-British activist Alaa Abd El-Fattah will dominate the upcoming COP27 climate summit if Egyptian authorities fail to intervene, Amnesty International warned. France 24 has the report.
• Southeast Asian leaders convened in the Cambodian capital of Phnom Penh, the Associated Press reports. The escalating violence in Myanmar and ongoing disputes in the South China Sea were high on the agenda. U.S. President Joe Biden also attended the summit.
• Myanmar's military is relying more heavily on Russia-supplied aircraft in its campaign against resistance fighters, the Washington Post reports.
---
You can write to me for any reason: c.maza@prontonmail.com.